Carl Alberg and Alfred Luders designed many boats but this particular set, Alberg's Sea Sprite 23 and Luder's 28, 30 and 34, hold a special place on our hearts. All built in Rhode Island, these boats have withstood the test of time with at least four of the original ten boats still sailing and registered in the association.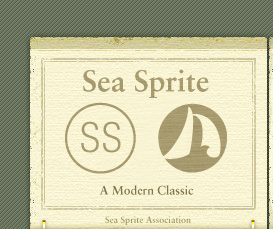 Sea Sprite sailing yachts is a family of US built sailing vessels. The series includes the following yachts, a 23′, 28′, 30′, and a 34′. They were all simply designated Sea Sprites. The twin sails in a following seas emblem is well known in the yachting world.
Sea Sprites are being sailed through out the world, with the largest concentration in New England waters. Narragansett Bay and Buzzards Bay are prime waters for these classic yachts. The Sea Sprite 23, a Carl Alberg design, was first produced in 1957. The Sea Sprite 28′, 30′ and Sea Sprite 34 were designed by Alfred E. (Bill) Luders Jr.
The history of the classes is outlined by multiple sub-menus in this section. In addition there is a submenu for the old Fleet Log. Under Individual Boat Histories is planned a detailed and ongoing library of individual boat histories written by current owners for posterity. Such histories will be fun to share with other owners. It will also help sell boats! So do some research, take some pictures, write up a story, and email me the article. I will post it in the library.