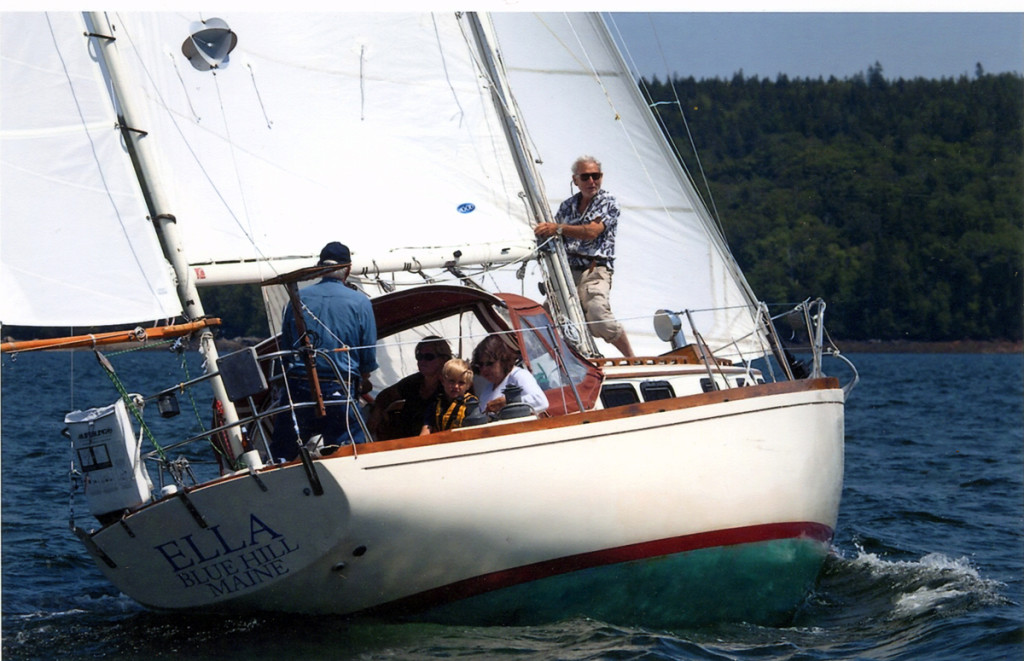 In Maine we're still in the phase of being irritated that it's winter, and it is.
The boat is ELLA. I bought her in Bristol in January 2013. My previous boat was a TULA, a sweet Cape Dory 27, on which I put an 18′ carbon fiber mizzen. I made the boom and some of the hoops, and dug the tackle out of the "assorted blocks" bucket. (Had mizzen envy, I guess, and liked being able to balance in heavier weather jib and jigger only, sailing by myself.) The new owner didn't want the mizzen, so I put it on ELLA. On TULA the mast was stepped on the cockpit sole. On ELLA it is stepped it on the aft deck, still without stays, so the top of the mizzen is still about the height of the spreaders.
The photo is by Christine Guinness. That's me at trying to tighten the luff on the Main.
I do just about all of my sailing on the coast of Maine, usually between Blue Hill Bay and Monhegan Island or Boothbay Harbor. The longest trip on ELLA was bringing her from Buzzard's Bay to Blue Hill Bay, in chilly, sloppy April weather, with a friend and one of my sons. For a while the seas were five to seven feet, which is no problem for the boat.  There were sufficient mishaps, mostly, I'm afraid to say, because of inattentive work by a yard where I had some work done. A couple of mishaps were not the yard's doing. The dinghy left us when we were 40 miles offshore, sometime in the early morning. Later that day we got my son Chris stuck up the mast, but he's a professional climber and finished the trip in more comfort.
Summer is soon!!