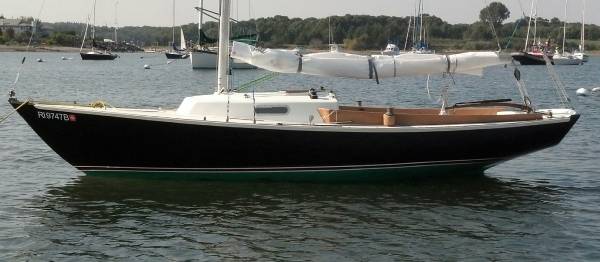 Daysailor 1965 – #220. This boat was extensively refitted and restored from late October 2011 through the end of August 2013. She was launched after many years on the hard on August 25, 2013.
The hull has been totally refaired, primed and professionally spray painted with several coats of Black Awlgrip. The deck has been refaired and spray painted with Awlgrip Oyster White and the non-skid areas are finished with Kiwi Grip non-skid.
New combings, combing blocks, seats, and trim and tiller — all in new unvarnished teak.
All standing rigging replaced – Harken Small Boat Jib Furling System. This system allows the use of non furling sails as well as furling sails. Adjustable mast compression post installed,
Mast and boom are original – all old halyards replaced, led internally using low weight, low stretch rope. Internal 6:1 mainsail clew outhaul installed inside the boom, set up so as to be adjustable from the cockpit. All halyards, boom vang, cunningham and spinnaker pole controls led across cabin top for easy cockpit access.
Spinnaker sheets run thru deck to Harken ratchet blocks and cam cleats, exiting thru the combings. Spinnaker pole, 7′ 6″.
Bottom was been stripped bare, faired – fresh bottom paint this year – has not been launched this year.
Outboard well — no outboard. Thru hulls removed, filled and faired — no head.
Anchor, rode, life jackets, horn, Windex, Ronstan adjustable hiking stick.
All other running rigging replaced and upgraded, primarily with Harken products. Harken mainsheet traveler with 3:1 traveler controls led below deck and exiting into the cockpit thru the combings within easy reach of the helmsman; cam cleats are mounted on brackets behind the combings. The traveler can be adjusted and cleated from the weather seat or rail.
Backstay adjuster installed with 8:1 purchase, exiting under the aft deck below the tiller within easy reach of the helmsman.
Bulkhead mounted compass.
Heavy duty Gusher pump installed in cockpit sole, water exits from thru hull fitting in the transom. Lemar #8 jib sheet winches on teak pedestals; Forespar main and jib halyard winches.
Full cockpit cover which keeps rain water out of the boat, used one season. Mainsail cover, used when the full cover is not use, used twice.
Jib: Doyle 150% roller furling Dacron. Used one season.
Jib: Doyle 135% Diax 2-70 cloth, used 3 days.
Jib: Doyle 99% Diax 2-70 cloth, used one day.
Mainsail: Doyle 6.46 Oz. Dacron, new 2013, used one season plus 8 days, top two battens full, max girth. Spinnaker: very used J22 spinnaker
Trailer:: 2012 Loadrite, single axle, galvanized, 4,300 # capacity, running lights, 2″ ball.
Many more pictures.
Asking Price: $10,500 with trailer
Location: Wickford, Rhode Island
Contact – Paul Sollito    email: psollitto@yahoo.com     Phone: 401-378-6200